Deerwood's Tommy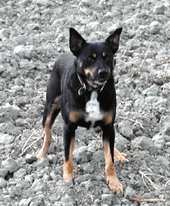 Tommy by Steve Kramer
On January 21st, 2004 nine pups whelped!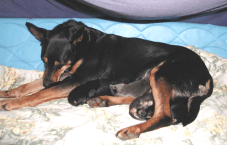 Feldspar Joule

Joule by Gisela Fritz
Deerwood's Tommy works both cattle and sheep daily on the Batson Ranch. Tommy is very natural and easy on stock, with plenty force to move stock both in paddocks and pens. He has also been winning and placing in many western cow dog trials. Laurie Batson and Tommy ranked number 4 in started dog standings in the 2002 Western Cow Dog Association.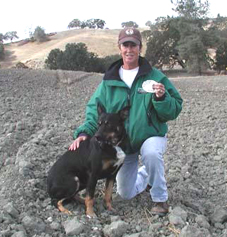 Laurie Batson & Tommy by Steve Kramer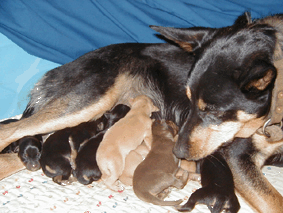 Doss-Tex Red Clay X Feldspar Joule
Feldspar Joule had her first litter on June 1, 2001. She had 8 pups, 5 males and 3 females. The black/tan Ampere and the red/tan Junebug are still owned by us and introduced on the previous page.